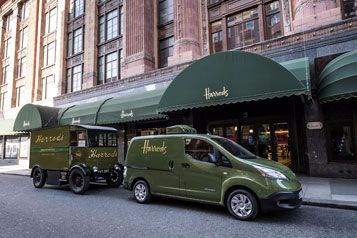 All-Electric Nissan e-NV200 Revolutionises Iconic Harrods Delivery Fleet
Nissan partners with Harrods to add all-electric Nissan e-NV200 to the British store's fleet
The 100 percent electric van, decked out in traditional Harrods livery, will make daily deliveries to the store's customers
Harrods is the latest European business to put its trust in Nissan as the leader in electric vehicle technology
In total Nissan has sold more than 27,000 electric vehicles to businesses across Europe
Over 100 years after the legendary London department store first added an electric van to its fleet, Harrods is once again returning to EV technology, with the addition of the 100 percent electric Nissan e-NV200 delivery van.
The British department store is the latest European business to add a zero emission Nissan e-NV200 to its fleet, with more than 27,000 Nissan electric vehicles sold to businesses across Europe so far.
Nissan officially handed over the 100 percent electric van to Harrods outside its luxury Knightsbridge store this week.
The Nissan e-NV200 has been specially adapted to perfectly fit Harrods' delivery needs. The load space of the van has been fully refrigerated and shelving units added to allow for fresh groceries to be transported in optimum condition. The exterior has also been wrapped in the traditional green and gold Harrods livery to make it recognisable as it travels around the city.
The e-NV200 has a range of up to 106 miles on a single charge*, which means it is easily capable of making up to 50 deliveries per week covering an average distance of 150 miles in the London area with Harrods only needing to charge it once a week.
With an average running cost of as little as 2 pence per mile, the e-NV200 offers an alternative practical solution which will have a positive effect on city-centre air quality.
In 1919, the store used solid-tyred American Walker electric vans, later building its own fleet of 60 electric vehicles to deliver goods to local London customers. As petrol engines became more popular, the electric vans were slowly phased out. However with the introduction and development of new infrastructure and technology, Nissan has enabled Harrods to have an all-electric van on its fleet once again.
Guy Cheston, Media Sales Director at Harrods said: "It's wonderful to see an electric Harrods van on the roads of London again. As one of Britain's largest established department stores, we are committed to reducing our carbon emissions and mitigating our environmental footprint. As part of our carbon and energy management policy, we have identified transportation as a key area where we can make a real impact.
"We have a strong heritage in developing innovative technology, both in-store and out, and Harrods was one of the first companies in the UK to develop an all-electric commercial fleet, introducing our first electric vehicle over 100 years ago. Electric technology has developed rapidly since our old fleet was in operation, and is now a far more sustainable transport solution. Nissan is the leader in EV technology and the e-NV200 was the obvious choice for us, allowing us to easily complete daily deliveries more sustainably and efficiently."
Gareth Dunsmore, Director of Electric Vehicles for Nissan Europe said: "Businesses across Europe are taking major steps to reduce their impact on the environment and it's great to see such an iconic British department store embracing zero emission technology and putting the e-NV200 on their fleet. Through Nissan Intelligent Mobility, we are working towards a sustainable future and we believe that zero emission vehicles, such as the e-NV200 are vital to tackling air pollution – an issue affecting many cities across Europe.
"The Nissan e-NV200 is designed for forward-thinking businesses and I am delighted that Harrods has put its trust in us to help them switch to more sustainable transport solutions. Harrods is demonstrating to other European retailers how EVs can help to reduce the carbon footprint of their business while providing the practicality and versatility needed to deliver goods to customers across London."
As a pioneer of the EV market since 2010, Nissan has continued to provide Intelligent Mobility solutions for the masses and has sold more than 290,000 EVs globally. Harrods joins more than 900 companies worldwide who have trusted Nissan to help them towards a more sustainable future. Named Europe's best-selling electric van in 2016, the e-NV200 is part of Nissan's popular zero emission range, combining the best elements of two multi-award winning vehicles – the Nissan LEAF and Nissan NV200. It provides a zero emission light commercial vehicle solution, offering low vehicle running costs from as little as two pence per mile and a range of up to 106 miles on a single charge. This makes it the perfect transportation option for businesses both big and small, as not only does it contribute to reducing a company's carbon footprint, it is also practical, reliable and cost-effective.
*A range of up to 106 miles per full charge (based on new European Driving Cycle). Actual consumption and range may vary due to driving style road condition, air-conditioning and other factors outside our control.
Latest News