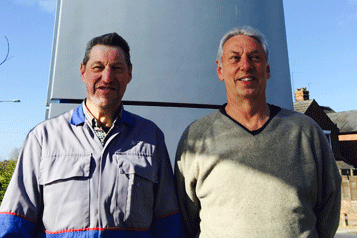 88 years of experience bid farewell
Two of our longest standing employees finally decided to call time within a week of each other.
Alan Hackwell and Peter Fisk have worked for us for a combined 88 years. They both started working for Roy & Daisy Hammond at the group's grass roots site in Wenhaston a small village just outside Halesworth. Alan a Technician started 46 years ago in 1969, when 3 gallons of petrol and a pint of oil only cost a £1, Peter a Bodyshop Technician started nearly 42 years ago in 1973.
In 1976 when we decided it was time to expand, both Alan and Peter moved to the current Ford site in Halesworth on Norwich Road, then when we expanded further Peter moved on to the Accident Repair Centre on Blyth Road Industrial Estate in Halesworth.
Alan recalls that things were considerably different back in his early motor trade days and referred back to when he working on a Triumph Herald, "you would have to roll the car over on a set of side rail brackets so that you can get to the underside, the centre transmission tunnel was packed with sound deadening material. I was welding the chassis when the sound deadening material caught fire, another mechanic rushed over to put the fire out with a powder fire extinguisher while I was still working on it, as I pulled away there was an outline of me on the floor of the car, it looked like a scene from CSI!"
Peter's speciality is straightening heavy commercial vehicle chassis, and also quotes "it was slightly different in those days, back then we used a hemp tape-measure, now, we use lasers to align the chassis"
Derek and Glen Hammond both state that it is a proud moment for the company to have staff retire after such a length of service, both Alan and Peter will be greatly missed by all at Hammonds and we wish them all the best in their retirement.
Latest News