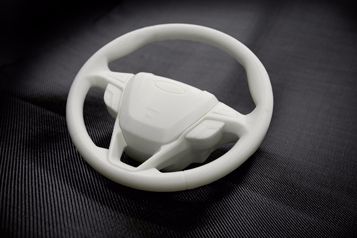 3D printing helps Ford to develop all-new Ford GT – and means you can build a supercar at home
Advanced 3D print technology is used in the development of Ford vehicles including the all-new Ford GT supercar
3D printing can deliver prototypes in hours, enabling designers and engineers to test and refine new designs and innovations quickly
Printed prototype parts for the Ford GT included the steering wheel, paddle shifts and door controls. All-new Ford Mondeo Vignale grille was also 3D printed
Ford offers first automaker-licensed 3D shop. All-new Ford GT, Ford Mustang and Focus RS are among 1,000 models that customers can build at home
Here's the best reason to add a 3D printer to your Christmas list: the technology can now be used at home to print models of some of Ford's most desirable cars, including the all-new Ford GT, Ford Mustang, and Focus RS.
Ford uses 3D printing to reduce development time through the production of prototype parts that enable designers and engineers to quickly test and refine different approaches. Traditional prototyping methods require special tools and can be time‑consuming. Ford can print a 3D part in a few hours and, for as little as £750, open up the opportunity for more experimentation and more radical, innovative design.
For the Ford GT, designers used laser 3D printing techniques to help create the F1-style steering wheel with integrated driver controls and the transmission paddle-shift controls. Engineers also printed key lightweight structural components for the upward-swinging doors.
"3D computer printing technology has totally changed the way we design and develop new vehicles. We can be more creative in trying to find potential solutions, and for the customer this means that our cars are better able to incorporate the latest thinking in design and technology," said Sandro Piroddi, Ford of Europe's Rapid Technology supervisor.
Ford bought the third 3D printing machine ever produced in 1988, and has since produced its 500,000th 3D printed part globally - an engine cover for the all-new Ford Mustang. Today's printers are quicker, more cost efficient, and incredibly accurate and can be used to produce prototypes for a wide variety of parts.
"Incredible as it is that 3D printing has been around for more than 25 years, it is a technology that is moving more quickly than ever before, opening up new ways of manufacturing the cars of the future," Piroddi said.
The precision smoothness of the finishing process was a key to 3D-printed parts being used in the development of the all-new Ford GT supercar. The Ford GT race car, competing next year at Le Mans as part of the FIA World Endurance Championship, also benefitted from the technology. It was used in the development of the intake manifold on the EcoBoost race engine.
Latest News