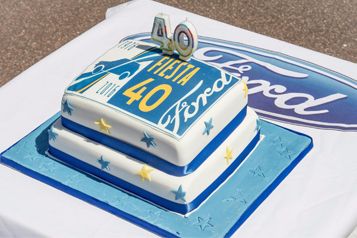 1976-2016: Ford Fiesta celebrates 40 years of production
Ford celebrates 40 years since the first Ford Fiesta rolled off the production line in Valencia, Spain
When Ford launched the Fiesta, 40 years ago in 1976; few could have predicted the phenomenal success story that was going to unfold over the coming decades.
In the 40 years from 1976-2016, over 4 million Fiestas were sold in the UK alone. Over these four decades, more than one in every 20 cars sold in the UK was a Ford Fiesta. In 2014 the Fiesta was crowned the UK's best-selling car of all time. The Ford Fiesta has been the UK's most popular car every month for the last seven years.
To celebrate this success, and the range of vehicles produced over the years, 40 of the nation's favourite Fiestas travelled in convoy from the Ford Engine Plant in Dagenham to Brighton Race Course for the Kelsey Media organised, 2016 Ford Summer Festival – A celebration of all Ford models. Around 200 Ford vehicles took part with models ranging from Cortinas to Rangers, and to mark the occasion, numbers 1-40 were allocated to Fiestas from the past four decades.
Ford of Britain chairman and managing director, Andy Barratt, said, "The opportunity to have these wonderful heritage vehicles lined up next to our latest Fiestas, such as the ST200, is very rare and was fully appreciated by the Ford fans that made the 69-mile journey down to the festival."
Also on display at Dagenham was a MkIV 1.4 Fiesta Ghia; the 10 millionth Ford vehicle produced at Dagenham as well as the MkVI World Rally Championship car. The Fiesta MkI owners club were also involved in the drive, bringing with thema variety of sport Fiesta models as well as a MkII Fiesta Popular and a MkI Fiesta Van. (Quote: Owners Club)
The chronological evolution of Fiesta was evident, from the early MkI to the latest MkVII, and the changes significant, both visually and technologically. External design changes have been accompanied by new technologies, safety features and increased levels of equipment, many of which are now standard on the latest Fiesta, including air-conditioning, electric windows, Easy Fuel, electrically-operated and heated door mirrors and power-assisted steering. Today's Fiesta, with a range of class-leading powertrains - including the multi-award winning 1.0-litre EcoBoost engine, can be ordered with heated seats, cruise control and integrated navigation system which can even include a rear-view camera.
1975
Engine production begins at Valencia
Fiesta name chosen personally by Henry Ford II for its alliteration with Ford, its spirit and its celebration of Ford's new connection with Spain
1976
Production of new Fiesta begins in Valencia, Spain in May. Fiesta initially available in 1.0-litre and 1.1-litre Ghia versions
1977
UK sales of the Fiesta begin
Export of Fiesta models for the US market begins
1979
Millionth Fiesta built for worldwide sales.
1981
Ford introduces the new Fiesta XR2 with a 1.6-litre engine, stiffer suspension, unique perforated alloy wheels and styling treatments, including available auxiliary driving lamps. The first 100mph Fiesta
1982
Fiesta is best-selling car in its class in Britain and Germany for six years running
1983
Aerodynamic new Fiesta MkII introduced. This new model was longer and more fuel efficient, available in 1.0-litre and 1.1-litre
1.3-litre model launched with a fifth gear
Fiesta 1.6-litre diesel introduced. This overhead-cam, indirect injection engine would become a mainstay of the Ford line-up for more than a decade
1984
XR2 MkII version of new Fiesta introduced with 1.6-litre, single-overhead-cam engine and 5-speed gearbox, plus low-profile tyres, improved suspension and brakes
1987
Best sales year in Britain with 153,000 Fiestas sold
1989
Fiesta MkIII launched with anti-lock brakes and lean-burn engines, in 1.0-litre and 1.1-litre versions. New Fiesta featured a longer and wider body shape and an increased wheelbase. It was available for the first time as a five-door model,
Fiesta is first small car with ABS
Fiesta MkIII adds 1.4-litre – the first Ford engine to meet pending European emissions standards due to take effect in 1996 – and 1.6-litre engine options
Fiesta XR2i joins the range later in the year with new 1.6-litre twin cam engine and 5-speed gearbox as the range's hot hatch.
1990
Introduction of Fiesta RS Turbo at Turin Motor Show. Using the XR2i engine with an intercooled Garrett turbocharger, the Fiesta RS Turbo was 1.6 seconds quicker than XR2i to 100km/h (62mph)
1992
Fiesta RS 1800 introduced. Powered by a 16-valve 1.8-litre engine with improved hot hatch handling, plus five-spoke alloy wheels and a body-colour spoiler
Introduction of 1.8-litre, 16-valve Zetec engine
1993
Driver airbag becomes standard
1996
Introduction of the new Fiesta MkIV with all-new rounded, aerodynamic shape and oval grille. Available with 1.25-litre, 1.4-litre and 1.6-litre engines, plus a 1.8-litre diesel. Dual airbags standard
2001
All-new Fiesta MkV introduced at the IAA Frankfurt Motor Show
Production begins in Cologne and Valencia of the new Ford Fiesta
2002
All-new Ford Fiesta MkV launched initially in the five-door version with a new line-up of engines, including the new Duratec 1.3-litre and the 1.6-litre 16-valve Duratec petrol engines
Fiesta three-door model and the range's 1.4-litre Duratec petrol engine and new 1.4-litre Duratorq TDCi common rail diesel engine
Durashift EST automatic shifting manual transmission introduced
2005
2.0-litre 150PS Fiesta ST launched as the first production offering of Ford Team RS. It was the most powerful Fiesta ever at the time.
2006
Fiesta launched with voice activation and Bluetooth
2008
All-new Fiesta MkVI unveiled at Geneva Motor Show
MkVI Fiesta goes into production in Cologne, Germany, Valencia, Spain and Nanjing, China, with new 1.6-litre Duratec Ti-VCT petrol and sub-100g/km 1.6-litre Duratec diesel engines
2010
Fiesta's 1.6-litre Duratorq TDCi engine sees power increase to 95PS and three petrol engine options benefit from CO2 emission reductions
2012
Introduction of the Fiesta MkVII, the first Fiesta to come with the three cylinder 1.0-litre EcoBoost engine. Launched with Ford's MyKey technology that would become a mainstay in many future Ford vehicles
2013
Fiesta ST launched with a 1.6-litre EcoBoost turbo engine that produces 182PS - Awarded Top Gear Car of the Year
2014
Fiesta Red/Black editions unveiled with 140PS 1.0-litre EcoBoost engine. More power-per-litre than a Bugatti Veyron
Powershift launched
Fiesta becomes best-selling vehicle ever in the UK, surpassing the 4,105,961 registrations achieved by the Ford Escort
2015
Best year for Fiesta sales since 1996 – selling more than 133,000.
2016
Fiesta ST200 launched with a specially developed 1.6-litre EcoBoost engine that delivers 200PS - fastest-ever production Fiesta
Fiesta becomes best-selling car in the UK every month for seven years in a row
Fiesta ST wins more than 10 key awards since launch in 2013, including What Car? 'Best Hot Hatch' for three years in a row
Latest News