Explore Model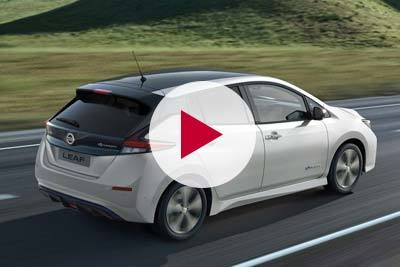 Nissan LEAF in Halesworth & Bury St Edmunds
Nissan's new LEAF is truly a car that looks to the future. It's 100 percent electric, so there are no emissions, bringing your running costs down. The powerful 240kWh battery can achieve a range of up to 235 miles and can charge up to 80 percent in just 40 minutes, so you'll never need to worry about being without power. Everything about this car is technologically advanced, with plenty of highly innovative features for safety and an improved driving experience. It's great looking, too, with a streamlined new body design and plenty of space inside. A leader of the pack.
Design
The new LEAF features a sleek body shape with a lowered ride height to improve aerodynamics. It features large angular headlights and a sporty rear spoiler, and comes in a choice of nine colours or two-tone black and white. Inside it's spacious and high-quality.
Drive
This is a highly intelligent car – it can even steer for you in single-lane traffic, and maintain a constant speed. It brakes when it detects a risk of collision with pedestrians or vehicles. The e-Pedal can be used for both accelerating and braking, to save battery power.
Practicality
No road tax and low running costs make this an economical car. It comfortably seats five, and offers plenty of storage solutions. The generous boot can be expanded by folding down the 60/40 split rear seats. It features six airbags.
Living with it
A truly futuristic car, the new LEAF is improved even further with touches such as climate control, keyless entry and a seven-inch touchscreen infotainment system, which are standard on all models.