Explore Model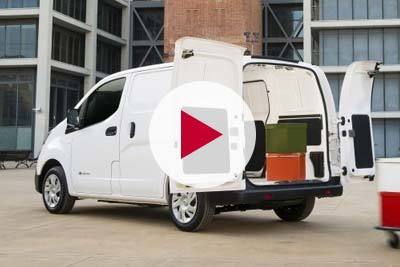 Nissan E-NV200 in Halesworth & Bury St Edmunds
The Nissan E-NV200 is an all-electric, commercial vehicle with remarkable interior space, making it extremely convenient while maintaining functionality, comfort, and giving a style of driving that you wouldn't expect from an electric engine. It really is an incredible achievement. It cuts clear curves, has responsive reactions, and has an indicative range of about 170km. The E-NV200 is undoubtedly one of the market's most important models, especially for those companies which operate in urban areas. Zero emissions, zero oil changes, zero fuel costs, ease of charging, the considerable economic savings where maintenance, insurance, and charging are involved, and not to mention the unbelievable environmental advantages make the E-NV200 a no-brainer.
Design
The aerodynamic body has an attractive shape, with a long slanted front end and large angular headlights. It's available in eight different colour options, and body-coloured bumpers and alloy wheels come as standard on all seven trim levels.
Drive
The e-NV200 Combi can achieve an impressive range of up to 106 miles. Regenerative braking adds charge to the battery every time you brake, and the colour reversing camera makes driving and parking easier. The high driving position offers excellent visibility.
Practicality
The huge cabin features plenty of clever storage solutions and offers 870cm3 of load space with all seven seats in place. Fold down the back row, and this expands to a huge 2.3m3. There are fold-down tables in the front seat backs. Climate control comes as standard.
Living with it
It's spacious, comfortable and highly economical, and thanks to the range of tech solutions, including the smartphone app which can be used for pre-programming, it's a thoroughly enjoyable vehicle to own and operate. A truly forward-looking family car.