Welcome to Hammond Group
Hammond Group is a Suffolk car dealership that operates near the Norfolk border, offering motorists a host of premier vehicle services. From the sales of new and used cars and LCV's, to exceptional vehicle servicing and repair facilities, we are passionate about providing everything you could possibly need to stay mobile for less. This passion is the same whether you are a private motorist or operate a fleet of HGV commercial vehicles.
As representatives of such prestigious brands as Ford, Isuzu, Nissan, Subaru and Iveco we believe it's imperative to uphold the standards that befit these world-renowned marques. At the Hammond Group, we ensure that every member of staff holds a real passion for the motor industry and are able to provide customers with an informed and reliable insight into the models we offer.
A new vehicle is an investment that demands careful consideration. With Hammond Group, you can rest assured that both our new models and extensive selection of used vehicles are of the highest order, so too is our affordable selection of rental vehicles. Whether it's a compact hatchback perfect for navigating city streets or a rugged all-terrain vehicle, Hammond Group will be able to provide the vehicle that is ideal for your needs. What's more, our sales team will be able to guide you through a selection of finance packages to ensure that the purchase of your next vehicle is as convenient as possible.
In addition to offering exceptional value for money in vehicle sales, keeping our customers on the road is a major aim of Hammond Group. Across our dealerships, we have first-class servicing workshops, parts departments and award winning accident repair centres, suitable for both private and HGV vehicles. With experienced and knowledgeable technicians able to remedy any problem, you can rest assured that Hammond Group will keep you on the road for longer. We even offer tyre replacements, road care assistance and Hammond Recovery, ensuring that your every motoring need is catered for.
We have a number of dealerships located across the region, each offering unrivalled levels of service. So if you're looking for a car dealer in Norfolk or Suffolk, visit the Hammond Group today and experience for yourself a warm and friendly welcome from our team.
Latest News
A W & D HAMMOND WINS TOP FORD AWARD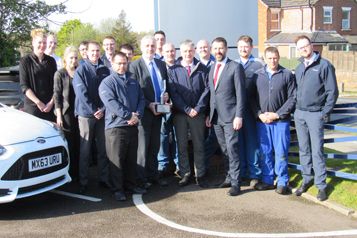 A W & D Hammond, has been named a winner of Ford's most prestigious prize for customer satisfaction – The 2015 Chairman's Award.
Based at Halesworth, the company received the award from Jim Farley Chairman & CEO Ford of Europe, Executive Vice President Middle East & Africa and Andy Barratt, Chairman & Managing Director Ford of Britain, after it was rated one of Ford's finest UK dealerships by its customers.
Extensive research is continuously carried out by Ford to assess exactly how customers feel about the quality of attention they receive from their dealer – whether buying a new car or having their vehicle serviced. For the winning dealerships this programme confirms they not only meet but exceed their customers' expectations.
Ford Dealer Principal, Paul Marjoram, said: "We are delighted and proud to receive the chairman's award. It is the ultimate test of the service we provide because it is judged by our customers. It is a real tribute to the excellence and dedication of all our staff and a fitting recognition of their commitment to customer experience."
Andy Barratt said: "This award recognises the commitment and outstanding achievement of A W & D Hammond in 2015. Being a winner places this dealership amongst the very best in the whole of Europe. Your focus and ability to deliver excellence in customer experience, vehicle sales, finance penetration and parts sales helps to mark both your dealership and Ford out as market leaders."