Welcome to Hammond Group
Hammond Group is a Suffolk car dealership that operates near the Norfolk border, offering motorists a host of premier vehicle services. From the sales of new and used cars and LCV's, to exceptional vehicle servicing and repair facilities, we are passionate about providing everything you could possibly need to stay mobile for less. This passion is the same whether you are a private motorist or operate a fleet of HGV commercial vehicles.
As representatives of such prestigious brands as Ford, Isuzu, Nissan, Subaru and Iveco we believe it's imperative to uphold the standards that befit these world-renowned marques. At the Hammond Group, we ensure that every member of staff holds a real passion for the motor industry and are able to provide customers with an informed and reliable insight into the models we offer.
A new vehicle is an investment that demands careful consideration. With Hammond Group, you can rest assured that both our new models and extensive selection of used vehicles are of the highest order, so too is our affordable selection of rental vehicles. Whether it's a compact hatchback perfect for navigating city streets or a rugged all-terrain vehicle, Hammond Group will be able to provide the vehicle that is ideal for your needs. What's more, our sales team will be able to guide you through a selection of finance packages to ensure that the purchase of your next vehicle is as convenient as possible.
In addition to offering exceptional value for money in vehicle sales, keeping our customers on the road is a major aim of Hammond Group. Across our dealerships, we have first-class servicing workshops, parts departments and award winning accident repair centres, suitable for both private and HGV vehicles. With experienced and knowledgeable technicians able to remedy any problem, you can rest assured that Hammond Group will keep you on the road for longer. We even offer tyre replacements, road care assistance and Hammond Recovery, ensuring that your every motoring need is catered for.
We have a number of dealerships located across the region, each offering unrivalled levels of service. So if you're looking for a car dealer in Norfolk or Suffolk, visit the Hammond Group today and experience for yourself a warm and friendly welcome from our team.
Latest News
HAMMOND NISSAN WIN AGAIN!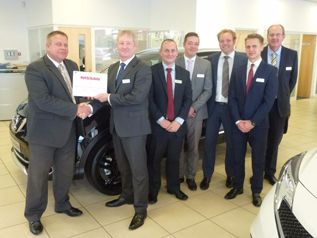 Our very own award-winning Hammond Nissan has won a national award for the service it provides to its customers.
Hammond Nissan in Norwich Road, was presented with a Nissan Customer Quality Retailer of the Year award for its sales performance over continuous quarters, beating a host of dealers in its sector across the UK.
Piers Capleton, Dealer Principal, dedicated the latest award to his team, praising their hard work and determination in making sure every customer feels welcome in the showroom.
He said: "I am really proud to work with such a professional and dedicated sales team, many of whom have been with us for a long time and helped us maintain our strong values on customer service.
"We have a philosophy here where we treat every person who walks in to the showroom as a celebrity, giving them all of our time and attention and making sure they are completely satisfied and want to come back."
The latest award comes shortly after they were chosen as one of only three sites in England and 160 worldwide to win Nissans highest honour – a Nissan Global Award – last month.
The prestigious accolade recognised Hammond Nissan for outstanding sales and aftersales performance, particularly in terms of new car sales and customer satisfaction.