Welcome to Hammond Group
Hammond Group is a Suffolk car dealership that operates near the Norfolk border, offering motorists a host of premier vehicle services. From the sales of new and used cars and LCV's, to exceptional vehicle servicing and repair facilities, we are passionate about providing everything you could possibly need to stay mobile for less. This passion is the same whether you are a private motorist or operate a fleet of HGV commercial vehicles.
As representatives of such prestigious brands as Ford, Isuzu, Nissan, Subaru and Iveco we believe it's imperative to uphold the standards that befit these world-renowned marques. At the Hammond Group, we ensure that every member of staff holds a real passion for the motor industry and are able to provide customers with an informed and reliable insight into the models we offer.
A new vehicle is an investment that demands careful consideration. With Hammond Group, you can rest assured that both our new models and extensive selection of used vehicles are of the highest order, so too is our affordable selection of rental vehicles. Whether it's a compact hatchback perfect for navigating city streets or a rugged all-terrain vehicle, Hammond Group will be able to provide the vehicle that is ideal for your needs. What's more, our sales team will be able to guide you through a selection of finance packages to ensure that the purchase of your next vehicle is as convenient as possible.
In addition to offering exceptional value for money in vehicle sales, keeping our customers on the road is a major aim of Hammond Group. Across our dealerships, we have first-class servicing workshops, parts departments and award winning accident repair centres, suitable for both private and HGV vehicles. With experienced and knowledgeable technicians able to remedy any problem, you can rest assured that Hammond Group will keep you on the road for longer. We even offer tyre replacements, road care assistance and Hammond Recovery, ensuring that your every motoring need is catered for.
We have a number of dealerships located across the region, each offering unrivalled levels of service. So if you're looking for a car dealer in Norfolk or Suffolk, visit the Hammond Group today and experience for yourself a warm and friendly welcome from our team.
Latest News
NISSAN LEAF CHARGES UP FOR BIRD RACE CHALLENGE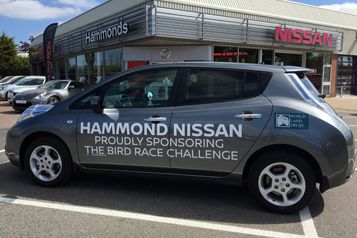 An environmental charity has flocked to a Suffolk Nissan dealership to collect a 100% electric Nissan LEAF for a unique race.
The World Land Trust team supported by famous conservationist and TV presenter Bill Oddie, chose to go emission-free for the Bird Race Challenge, a quest to find as many different bird species in the Suffolk and Norfolk regions within a 24-hour time period on May 13th.
The challenge will involve teams looking to outdo each other with their ornithological discoveries as well as trying to raise as much for charity as they can. And this year, World Land Trust is also the official charity beneficiary. All funds raised will go towards reforesting areas of Bolivia where forests have been lost.
The team collected their Nissan LEAF — which has a range of 155 miles* on a single charge — from Hammond Nissan, Norwich Road, Halesworth, last week.
Dan Bradbury, Head of Development at World Land Trust and chief driver, said: "We thought if we were going to take part in this challenge, we should reduce our carbon footprint as much as possible. We immediately thought of the Nissan LEAF and the team at Hammond Nissan are now telling us exactly where all the charge points are so we can plan our routes."
Bill Oddie, a World Land Trust Ambassador, added: "This is the first time I've been in a Nissan LEAF but I am very much looking forward to experiencing something new!"
Piers Capleton, Dealer Principal, said: "We were absolutely delighted to be able to help the World Land Trust by providing them with a Nissan LEAF — it's the perfect car for their challenge."
From left, race organiser Andrew Whitelee, John Burton and Dan Bradbury from the World Land Trust, and Bill Oddie, conservationist, TV personality and World Land Trust ambassador.
* Based on New European Driving Cycle (NEDC) figures.