Aftersales Offers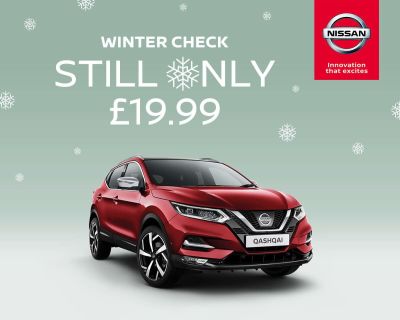 Winter Check
The cold is coming, but you'll feel all the warmer knowing your Nissan's had its 20­point Winter Check on essentials like the health of your battery or the condition of your tyres and brake­pads. We even throw in a free screen wash top­up, so get your vehicle a crystal­clear thumbs­up for Winter. Whether you're off out sledging or driving home for a cosy night in by the fire, make sure the weather won't bother you with our Winter Check. We carry out a 20­point inspection, scrutinising your car and giving you an eVision video link so you can see any suggested maintenance before you approve it. Priced at £19.99, it also comes with a free screen wash top­up, so you can wipe the Winter murk away. Nissan recommends that any work carried out by our Nissan trained technicians uses Nissan Approved Quality Parts. These are specially designed for Nissan vehicles, ensuring perfect fit, reliability, durability and security, with consistent high­performance in all conditions ­ especially Wintry ones. We look forward to welcoming you soon.
The health check is a visual inspection and does not replace a normal recommended service, which is dependent on the make and model. Promotion runs from 1 October 2018 to 31 March 2019 at participating dealers for Retail Customers only. Top­ups in excess of 250ml/1L may be subject to an additional charge. Advertised prices include Labour and VAT. This is for general guidance only and contents do not in any way constitute an offer or representation by Nissan. While all reasonable efforts have been made to ensure the accuracy of the information provided, all particulars are subject to constant revision and Nissan reserves the right to change, modify or withdraw the offers without any notice at any time. Accordingly, you should contact your local Nissan Dealer for the most current information. All information correct at time of going to print. For full terms, conditions and exclusions see nissan.co.uk/legal/terms­conditions.html#you+Nissan If you would no longer like to receive emails from Dealer, please click here to unsubscribe. If you would no longer like to receive emails from Nissan, please contact our Customer Services gb@nissan­services.eu
From only £19.99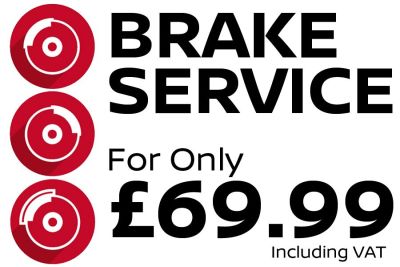 Hammond Nissan Brake Service
Our manufacturer trained technicians will carry out a comprehensive diagnostic brake check on your Nissan. Beginning with an inspection of the braking system and its components, our technicians then remove and clean the brakes, discs, callipers and shoes.
From only £69.99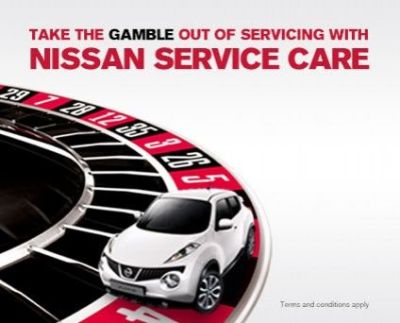 TAKE THE GAMBLE OUT OF SERVICING WITH NISSAN SERVICE CARE
HIT THE SERVICING JACKPOT EVERY TIME

Whatever your Nissan's age from just £199 for petrol (or £219 for diesel) you can enjoy all of this:
Fixed pricing

1 year's roadside assist

Free courtesy car

Vehicle assessment video

Approved quality parts

Free vehicle software updates

When you book with us you can be rest assured that our trained Nissan technicians will carry out the work, using only approved quality parts.
TERMS & CONDITIONS:
Terms and conditions apply
UK Nissan retail customers only, business customers excluded. Excludes GTR, 370Z, 350Z, LCVs, Pathfinder, Patrol, Navara and all electric vehicles. Mileage and other restrictions apply to Mobility. Price based on minor petrol service. Servicing must be by a franchised Nissan Dealer at the intervals specified by Nissan. Includes labour and certain parts only. Software updates are available free of charge. Not all cars will require re-programming at time of their service. Participating dealers only, eligibility criteria apply. For further details on servicing, eVision, roadside assistance, Mobility and for full terms, conditions and exclusions see nissan-aftersales.co.uk/servicecare
From only £199