Explore Model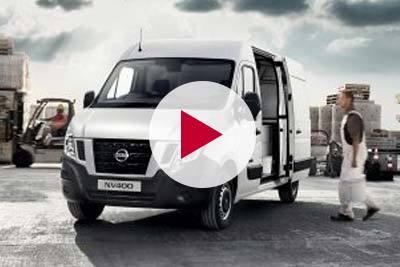 Nissan Nv400 in Halesworth & Bury St Edmunds
This roomy van has to be one of the most versatile vehicles on the road. It's available in a huge range of options, including as a panel van, seven-seater crew bus, nine-seater combi, dropside or tipper, with specialist factory conversions also available for a truly personalised solution. You can even choose the length, height, wheelbase and payload to suit your needs. With a huge cargo space and plenty of load-carrying solutions, the NV400 offers all the practicality you need. Low running costs, striking good looks and excellent handling make this an all-round workhorse that's hard to beat.
Design
The NV400 has a bulky presence with a strong, square grille and powerful front end. It features a low floor and wide-opening doors, and is available in a choice of ten attractive colours. Inside, it offers high quality materials and plenty of space.
Drive
The highly efficient 2.3-litre turbo diesel engine is available in five different tunings, and comes with a six-speed manual gearbox. Choose between front- or rear-wheel drive. It's equipped with plenty of smart solutions to ensure great handling in all conditions.
Practicality
The load space is huge – up to 17m3 in the panel van. Even the seven-seater crew bus gives you 4m3. Various attachment points and load hooks make it easy to secure objects of all shapes and sizes, and there are plenty of clever storage solutions throughout.
Living with it
For versatility and practicality, the NV400 is truly hard to beat. It offers excellent visibility and is well-insulated to prevent noise, keeping you calm and relaxed on the road. An ideal and thoroughly flexible commercial vehicle.